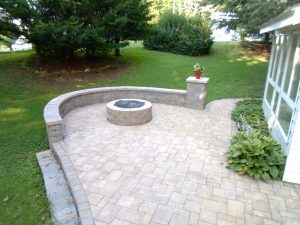 Add stylish and practical touches to your outdoor space with these great stone feature ideas for paths, patios, fire pits, raised planters, water features, and more!
Stone features include; stone retaining walls, stone walkways, gravel paths, stone landscape steps, planters, outdoor kitchens, and the normal fireplace and fire pit additions.
By placing natural stone in the right formation with a plastic lining, you can create the perfect waterfall and pond for your backyard.
​Using large pavers, a sleek stone fireplace turns your backyard into a perfect space for relaxing after work.
Create an elegant wall for a walking path or to accentuate your landscaping. No matter the stone build, we're the experts when you're searching, "Stone Feature Frederick".
When you are ready to install your custom Stone Feature, Porch & Patio of Frederick is here to answer all of your question and help provide the most elegant and beautiful product that meets your budget.